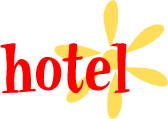 Back to Main Menu
A chic budget hotel. Guests stay here for the price, a place to put your luggage and to sleep. Few amenities and shared bathrooms.

Hotel 31
4 out of 5 stars - tripadvisor.com
two stars - gayot.com
120 East 31st Street
New York, NY. 10016
Phone: (212) 685-3060
Fax: (212) 532-1232
E-mail: hotel31@verizon.net
$85.00 (double shared bath)
$130.00 (double twin private bath)
rates as low as $69.00 can be found online
taxes NOT included
1.6 miles from ceremony
.67 miles from reception
Save money with expedia.com, orbitz.com or hotels.com
FREE Parking!
If you request it,
you can park for free
for the weekend at the reception location
(24th & FDR).
Your car must arrive at UNIS after 4 PM on Friday, August 19th and leave before 8 AM on Monday, August 22nd.
Please provide your make, model and license plate number for free parking.

Courtyard by Marriott
866 Third Avenue (between 51st & 52nd)
New York, New York 10022
Phone: 1-212-644-1300
Fax: 1-212-317-7940
Sales: 1-212-317-7911
Toll-Free: 1-800-894-6380
$179.00 (1 King)
$219.00 (2 double beds)
taxes NOT included
1.25 miles from ceremony
.67 miles from reception
This is the least expensive chain I could find. Online prices weren't much
of a savings, so you may be able
to find something cheaper through
a discount website.

OffPark Bed & Breakfast
Adobe Acrobat Required
28 East 35th Street
(between Park & Madison)
New York, NY 10016
Contact: Charlotte McPherson
(212) 228-4645
NO SMOKING ALLOWED.
Credit cards not accepted.
$110-170/night, 1-2 person occupancy;
$140-195, 3-4 person occupancy
Full kitchen, private bathroom
in each room
1.81 miles from ceremony
1.16 miles from reception
OffPark B&B offers large rooms at attractive pricing. You may be able to bring sleeping bags for the kids to save money. Make sure you mention you're part of the McDonald/Meyers wedding, or you'll have to book three days.