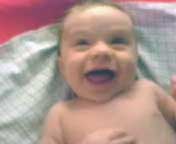 Ronan Laughing QuickTime Movie 1.9 MB
Ronan has entered that phase of infancy where he can't stand to be awake and not near me. It doesn't seem so bad on the weekend or evenings when Terry is home, but during the day it seems as if I cannot take a shower or cook myself a meal without him wailing in the background. I have mixed feelings about this; on the one hand, it's a great feeling. On the other, I'm tired. Try carrying fifteen pounds of squirming infant and see how much energy you have.
This is the dreaded attachment phase of parenting, where from about four months to about seven months, the infant, who has identified the primary caregivers, completely freaks out if we are not present.
My first encounter with the attachment phase was about ten years ago, when I knew nothing about it. A friend asked me to babysit. Expecting a fun afternoon playing with a happy baby, the poor kid was asleep when he arrived, and woke up to find his mother gone and some hairy fat thing in her place. Of course, the afternoon was hours of tears, and I felt like the worst babysitter in history. The low point was when the just-crawling baby figured out, probably out of sheer terror, how to get out of its stroller. I was doing dishes when I heard a loud crash. The poor terrified kid had gotten his leg stuck in the seatbelt and had flipped over. Crying while upside down, he never recovered. I'm not sure I ever recovered either, but I thought "What a nice feeling for the mom, always being wanted." Of course, that thought came to me as I gladly handed the kid back to his Mom.
Now I'm living the flip side. Ronan watches me wherever I go in the room, and moans kinda like the dying giraffe in South Park. It's a great feeling as a parent to rush through a two minute ice cold shower because your only son is acting as if he's in mortal peril. The first few days I went without lunch just to hold him, but then I just gave up and felt guilty while I ate. (I get hungry. It doesn't mean I'm a bad parent.)
This stress is partially made up by the Satanic prowess the kid has in cuteness. He rarely cries in my arms, and it's usually for a short duration while he fights going to sleep. If he's not tired or hungry, which are easily solvable problems, he's deliriously happy. As in, laughing-like-a-maniac happy. Apparently I'm not only funny to adults; I rock with the 4-month-old humor. A sample conversation:
Jason: Do you want a bottle?
Ronan: HAHAHAHAAHAAA HAAA HAHA HA giggle
Jason: Do you want some more?
Ronan: HAHAA HAHAHA HAHA HA giggle HAHA HA HAHA giggle
Jason: Do you want your diaper changed?
Ronan: giggle giggle HAHAHAHAHAHAHAHAHAHAHA
Ronan's favorite activity is getting his diaper changed. We have several theories about this. Either he's just happy because he fills his diaper regularly and doesn't like it when he's dirty; or, his focus is such that the diaper-changing table puts him at the right height to see us clearly. Either way, he giggles and kicks his way through the whole process, which is slightly inconvenient because you can't easily put a diaper on properly when your baby is squirming all over the table.
All in all, I'm glad he's such a happy baby, and I vastly prefer clinging and laughing to parental rejection and tears. I'll suffer through my guilty meals and get back to making my baby laugh.
I just hope that my friends still find me somewhat as witty as they once did…